IFC is celebrating 40 years
of nurturing our neighbors this year!
Please join us October 21, 2023 from 1pm to 3pm for the festivities!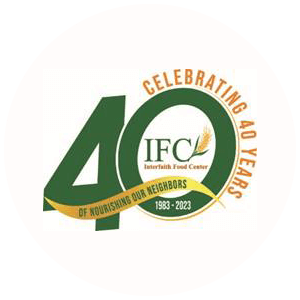 Welcome to Interfaith Food Center
The Interfaith Food Center is a non-faith-based, non-profit 501(c)(3) charity organization dedicated to meeting the needs of our hungry and homeless neighbors in Whittier, La Mirada and Santa Fe Springs.
IFC was founded in 1983 when several local churches and synagogues recognized a developing need as the number of malnourished senior citizens in the Whittier and La Mirada area continued to grow. This was primarily due to the impact of rising inflation while living on fixed incomes and limited Social Security dollars. This group of compassionate individuals organized and started Interfaith Food Center as a community-based food distribution center, serving some 30 low-income local families.